Dinner in the vineyards on September 5!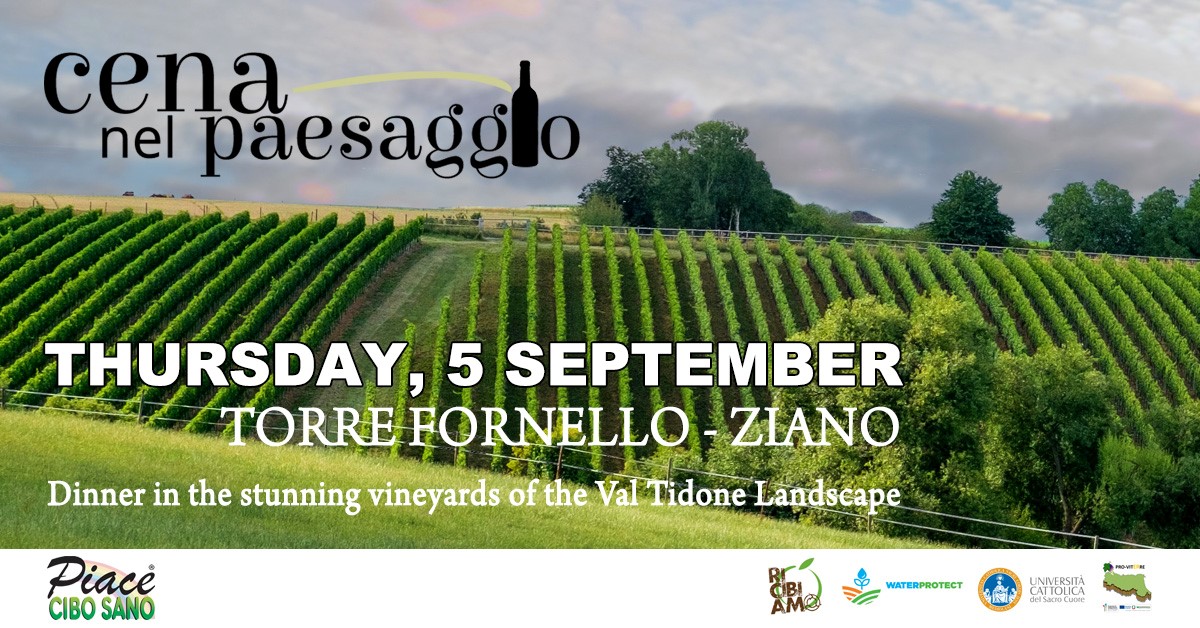 The Dinner immersed in the Vineyard Landscape has been organised by PiaceCiboSano to offer you an unforgettable evening in the magical atmosphere of tradition, landscapes and the renowned gastronomy of Piacenza, but also as an opportunity to enjoy the breathtaking view over the Val Tidone vineyards.
Surroundings that can take your breath away, and make you forget the worries and the stress of everyday life, because in these places we live in harmony with nature.
For those who wish to enjoy the culinary excellence of Piacenza and admire the lights, the colours and the stunning vineyard covered hills of Val Tidone, but also wish to be the Sustainable protagonists of the territory, will be able to book a seat in the splendid surroundings of Torre Fornello in Ziano on Thursday, September 5, from 6.00 pm to midnight.
The vineyard landscape and its quality, in a valuable place like Val Tidone, should be considered by the inhabitants and by the politicians as one of the priorities of the 2030 agenda for the Sustainable Development of the valley. Investing in the surrounding environment means investing in the future. Landscape artists, expert pedologists and experts in viticulture will tell us about the versatility of the landscape and its nuances.
For further information and reservations, write to http://symposium-pesticide@unicatt.it . Cost of the evening for Symposium Participants is € 50.
Posted August 26, 2019 in: Event by Nicoleta Suciu
---
UP